Asking for and Giving Advice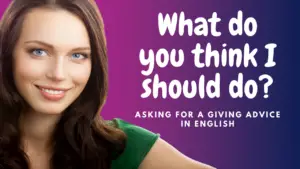 This video is about asking for and giving advice in English. The video gives phrases for conversation and practice in real-life situations. It can be used in the classroom on online for self-study.
Topic:  Asking for and Giving Advice
Language Focus:  Speaking, Conversation
Level:  Intermediate
This video English lesson includes:
Vocabulary
Expressions and Idioms
Speaking practice
See ideas and practice activities here.
Get more information here (pronunciation, audio).
Related Lessons and Topics:
Grammar
Vocabulary
Speaking