Your Body Language Shapes Who You Are
Look at the picture.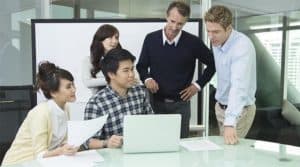 Read the questions.
Think about the topic.
Pre-Listening 
What do know know about "body language"?
What does it communicate to other people about you?
Can body language change the way you think about yourself?
Watch the following TED Talk by Amy Cuddy.
Here are some questions to check your comprehension.
1. What is the main idea of the talk?
You can change outcomes by changing your body language.

Your body language determines what you think about yourself.

Body language gives you clues to what others are thinking.
2. Who is influenced by non-verbals?
Oneself

Other people

Both oneself and others
3. What (two) animal behaviors do people also exhibit in their body language?
4. What does "fake it till you make it" mean?
Pretend that you will make something that you really won't

Act as if you have confidence, and you will become confident.

Make a fake impression, and people will not notice your weakness.
5. What did the study find about "high power" and "low power" poses in job interviews?
6. What did the speaker's experience at Princeton teach her?
7. What are the speaker's recommendations for the audience?
Read and Pronounce
Read the full transcript here.
Read the text aloud to your tutor. Your tutor will listen and provide you with feedback.
Speaking Instructions
Talk with your tutor about this topic.
Do you agree or disagree that body language shapes who you are?
Why or why not?
Learning and Practice 
Read the vocabulary words below.
Do you know what they mean?  Can you guess from the context?
Practice pronunciation with your tutor.  Try to use the words in sentences.
Use some of today's vocabulary words and summarize the main ideas of the Talk.
Vocabulary Words and Expressions
non-verbals
pose(s)
tweak
wink
hunch(ing)
dominance
virtually
collaborator
hormone(s)
testosterone
cortisol
assertive
hierarchy(-ies)
gamble
configure
hypothesis
primate
heckle(d)
quicksand
evaluative
impostor
traumatic