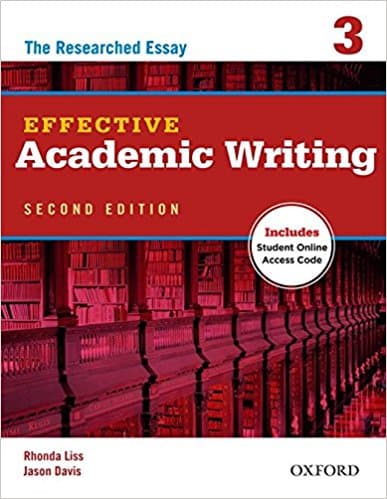 Effective Academic Writing, Second Edition provides the tools necessary for successful academic writing:
-Step-by step Writing Process guides and refines writing skills.
-Timed Writing practice prepares students for success on high-stakes tests.
-Online Writing Tutor on Oxford Learn improves academic writing inside and outside the classroom.
-Online Grammar Practice provides extra practice where and when your students need it the most.
Step-By-Step Instruction takes students through the complete academic writing process starting at the sentence level and ending with the researched essay.
About the Author
Alice Savage and Masoud Shafiei are well-respected in their field.
Product details
Series: Effective Academic Writing Second Edition
Paperback: 230 pages
Publisher: Oxford University Press; Student edition (March 13, 2012)
Language: English
ISBN-10: 019432348X
ISBN-13: 978-0194323482
Product Dimensions: 10.9 x 0.4 x 8.4 inches