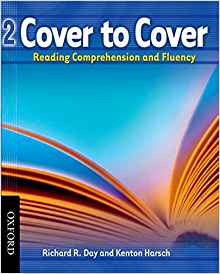 Through wonderful readings and carefully designed activities, this best-selling series helps students develop reading skills and systematically increase their active vocabulary. Learners develop useful and relevant vocabulary while exploring and expanding critical thinking skills.
Book Description
Richard R. Day is professor of English as a Second Language and Second Language Acquisition at the University of Hawaii. He is Chair and Co-Founder of the Extensive Reading Foundation. Junko Yamanaka is Chief Instructor and Teacher Trainer at Trident College of Languages in Nagoya and is
Vice-Chair of the Extensive Reading Foundation.
Product details
Series: Cover to Cover (Book 2)
Paperback: 171 pages
Publisher: Oxford University Press; Student edition (October 11, 2007)
Language: English
ISBN-10: 0194758141
ISBN-13: 978-0194758147
Product Dimensions: 9.9 x 0.3 x 7.9 inches