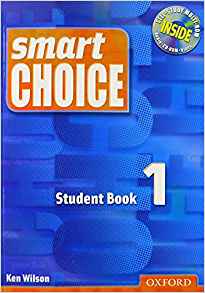 Paperback from $11.95
Smart Choice is a complete four-skills course with a special focus on conversation. With its straightforward approach, the series requires minimal preparation, while allowing plenty of opportunity for supplementation. Each page of Smart Choice offers a self-contained lesson, focusing on a particular skill, and closes with a discussion activity.
Editorial Reviews
About the Author
Ken Wilson worked in Spain and the UK as an English teacher and teacher trainer before getting involved with the English Teaching Theatre – first as a performer, then as writer and artistic director. He now trains teachers all over the world and is a prolific author of ELT materials with more
than 20 titles to his name.
---
Product Details
Series: Smart Choice
Paperback: 144 pages
Publisher: Oxford University Press (June 28, 2007)
Language: English
ISBN-10: 0194305627
ISBN-13: 978-0194305624
Product Dimensions: 11.5 x 0.4 x 8.1 inches