"To" versus "For" in English
This video deals with the problematic words "to" and "for" in English grammar. It is designed to help ESL students and teachers understand these complicated verbs, infinitives, and prepositions. The video explains grammatical usage and gives examples and explanation for self-study and learning. It also offers exercises for correction of common mistakes.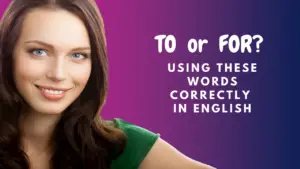 Topic:  Prepositions "To" and "For"
Language Focus:  Grammar, Vocabulary, Speaking
Level:  Advanced
This video English lesson includes:
Grammar
Vocabulary
Expressions and Idioms
Speaking practice
Check out this great English lesson!
Related Lessons and Topics:
Grammar
Vocabulary
Speaking