ESL gold Flash Cards

4.

What Did You Learn From the Video?
5. Answer the Questions
A. What kinds of things did they take on their camping trip?
B. Where did they go camping?
C. What did the campers eat for dinner?
D. How many people went camping?
E. What mineral is found in North Carolina streams?
F. What kind of bacon did the campers eat for breakfast?
6. Insights About Outdoor Activities
HIKING
Hiking in Canada and the USA is the preferred term for a long, vigorous walk, usually on trails (footpaths), in the countryside, while the word walking is used for shorter, particularly urban walks. On the other hand in the United Kingdom, and the Republic of Ireland, the term walking is used to describe all forms of walking, whether it is a walk in the park or trekking in the Alps. The word hiking is also sometimes used in the UK, along with rambling, hillwalking, and fell walking. In New Zealand a long, vigorous walk or hike is called tramping.  It is a popular activity with numerous hiking organizations worldwide, and studies suggest that all forms of walking have health benefits. –

from Wikipedia.org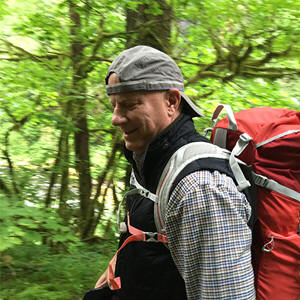 CAMPING
Camping is an elective outdoor recreational activity. Generally held, participants leave developed areas to spend time outdoors in more natural ones in pursuit of activities providing them enjoyment. To be regarded as "camping" a minimum of one night is spent outdoors, distinguishing it from day-tripping, picnicking, and other similarly short-term recreational activities. –

from Wikipedia.org
Gardening
Gardening is the practice of growing and cultivating plants as part of horticulture. In gardens, ornamental plants are often grown for their flowers, foliage, or overall appearance; useful plants, such as root vegetables, leaf vegetables, fruits, and herbs, are grown for consumption, for use as dyes, or for medicinal or cosmetic use. Gardening is considered to be a relaxing activity for many people.
SCUBA Diving
Scuba diving is a form of underwater diving in which a diver uses a self-contained underwater breathing apparatus (scuba) to breathe underwater.Unlike other modes of diving, which rely either on breath-hold or on air pumped from the surface, scuba divers carry their own source of breathing gas, usually compressed air, allowing them greater freedom of movement than with an air line or diver's umbilical and longer underwater endurance than breath-hold. Scuba equipment may be open circuit, in which exhaled gas is expelled to the surroundings, or a closed or semi-closed circuit rebreather, in which the breathing gas is scrubbed to remove carbon dioxide, and the oxygen used is replenished from a supply of feed gas before being re-breathed.A scuba diver usually moves around underwater by using fins attached to the feet, but external propulsion can be provided by a diver propulsion vehicle, or a sled pulled from the surface. –

from Wikipedia.org
Rafting
Rafting and white water rafting are recreational outdoor activities which use an inflatable raft to navigate a river or other body of water. This is often done on whitewater or different degrees of rough water, and generally represents a new and challenging environment for participants. Dealing with risk and the need for teamwork is often a part of the experience. The development of this activity as a leisure sport has become popular since the mid-1970s, evolving from individuals paddling 10 feet (3.0 m) rafts with double-bladed paddles to multi-person rafts propelled by single-bladed paddles and steered by a tour guide at the stern. It is considered an extreme sport, and can be fatal.-

from Wikipedia.org
Running
Running is a method of terrestrial locomotion allowing humans and other animals to move rapidly on foot. Running is a type of gait characterized by an aerial phase in which all feet are above the ground (though there are exceptions). This is in contrast to walking, where one foot is always in contact with the ground, the legs are kept mostly straight and the center of gravity vaults over the stance leg or legs in an inverted pendulum fashion. A characteristic feature of a running body from the viewpoint of spring-mass mechanics is that changes in kinetic and potential energy within a stride occur simultaneously, with energy storage accomplished by springy tendons and passive muscle elasticity. The term running can refer to any of a variety of speeds ranging from jogging to sprinting. –

from Wikipedia.org
Skydiving
Parachuting, or skydiving, is the action sport of exiting an aircraft and returning to Earth with the aid of gravity, then slowing down during the last part of the descent by using a parachute. It may or may not involve a certain amount of free-fall, a time during which the parachute has not been deployed and the body gradually accelerates to terminal velocity.Andre-Jacques Garnerin was the first to make successful descents using a canvas canopy and small basket, tethered beneath a hot-air balloon. The first intentional freefall jump with a ripcord-operated deployment is credited to Leslie Irvin in 1919. –

from Wikipedia.org
Fishing
Fishing is the activity of trying to catch fish. Fishing usually takes place in the wild. Techniques for catching fish include hand gathering, spearing, netting, angling and trapping.The term fishing may be applied to catching other aquatic animals such as molluscs, cephalopods, crustaceans, and echinoderms. The term is not normally applied to catching farmed fish, or to aquatic mammals, such as whales, where the term whaling is more appropriate. –

from Wikipedia.org
Golfing
Golf is a precision club and ball sport in which competing players (or golfers) use various clubs to hit balls into a series of holes on a course using as few strokes as possible. Golf is defined, in the rules of golf, as "playing a ball with a club from the teeing ground into the hole by a stroke or successive strokes in accordance with the Rules." –

from Wikipedia.org
7. Talk with a friend or partner about it.
Discuss the kinds of outdoor activities that you enjoy.
What kinds of outdoor activities would you like to try?
Talk with your friends and family about the activities that they like to do.
ESLgold.com CEO Interview
English Greetings & Phrases
Speak English as a Second Language
Learning English – Lesson One
Learning Basic Sentence Structure
Conjunctions & Linking Words