Ten Things Emotionally Intelligent People Refuse to Think
Look at the picture.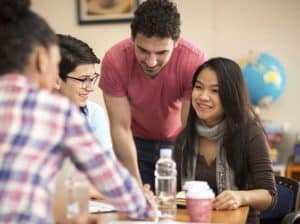 Read the questions.
Think about the topic.
Pre-Reading 
What does "emotionally intelligent" mean to you?
What do emotionally intelligent people, think and do?
What do emotionally intelligent people avoid doing?
What is the difference between IQ and EQ?
Read and Pronounce
Read the following to your tutor.  He / She will listen and offer help with your pronunciation.
Pay attention to what comes out of your mouth. The language you use impacts how you experience your world, and how others experience you. Inevitably, things get "lost in translation".
If you're familiar with cognitive distortion or "cognitive bias," these psychology terms teach us that there are subtle ways that our mind can convince us of something that isn't really true. These inaccurate thoughts are usually used to reinforce negative thinking or emotions, thus holding us back.
We all do this both consciously and unconsciously, and how we do this provides pointers to our underlying beliefs about ourselves, our peers, partners and colleagues, and the immediate world around us.
This could spell trouble. Which of these do you do? Check the areas below and be courageous enough to ask a trusted peer for perspective. Is it a problem?
Read the rest of the article here.
Source:  Inc.com
Author:  Marcel Schwantes
Read the text aloud to your tutor. Your tutor will listen and provide you with feedback.
Talk about It
What did you learn about emotional intelligence that you didn't know already?
Do yo agree with the author's 10 points to emotional intelligence?
Which of these points would be most helpful to you if applied?
How could they best be applied to people around you?
bias
blame(-ing)
catastrophe
colleague(s)
cognitive
convince
(un)conscious(ly)
courage(ous)
deny(ing)
dig(ging)
discount(ing)
distortion
dramatic(ally)
filter
idiot
(in)accurate
inevitably
insist(ing)
label(ing)
maximize(-ing)
minimize
overgeneralization
peer(s)
personalization
perspective
pointer(s)
reinforce
resent(ful)
(un)reliable
subtle
tournament
trust(ed)
underlying
wimp
yell(ing)
Expressions
all or nothing
fortune telling
get lost in translation
hold (someone) back
jump to conclusions
spell trouble