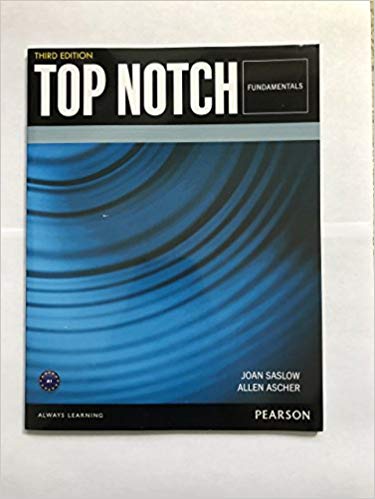 Paperback from $36.82

Joan Saslow ; Allen Ascher (Author)
Editorial Reviews
From the Back Cover
Renowned for its unique speaking pedagogy, Top Notch is a dynamic communicative course that makes English unforgettable. Goals and achievement-based lessons with "can-do" statements enable students to confirm their progress in every class session.
Top Notch builds confidence for successful verbal communication and develops critical thinking skills and reading and listening strategies.
Highlights
New Conversation Activator and Pronunciation Coach Videos in every unit build conversational competence and accurate pronunciation.
New: Full-color digital vocabulary flashcards for varied, enriched, and explicit practice.
New: Interactive extra grammar exercises to maximize the quantity of grammar practice in every unit.
New: Achievement tests include Speaking and Writing tests for every unit, ensuring a fuller evaluation of progress.
---
Product Details
Paperback: 150 pages
Publisher: Pearson Education ESL; 3 edition (January 24, 2015)
Language: English
ISBN-10: 0133927911
ISBN-13: 978-0133927917
Product Dimensions: 8.2 x 0.5 x 10.6 inches