Powerful Habits of Considerate People
Look at the picture.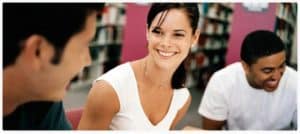 Read the questions.
Think about the topic.
Pre-Reading 
What does it mean to be considerate?
What traits do considerate (or inconsiderate) people have?
Would you like to develop some of these qualities?
Read the quote below.  Do you agree or disagree with it?
"Being considerate of others will take you further in life than any college or professional degree." – Marian Wright Edelman
Read and Pronounce
Read the following text to your tutor. He / She will listen and correct your pronunciation.
"Philosopher Arthur Schopenhauer once said, 'Politeness is to human nature what warmth is to wax.' It's true. Being kind and considerate softens people and makes them malleable to your way of thinking."
"But I see another meaning there, too. I think he's also saying that being considerate of others is an integral part of what it means to be human. Charles Darwin would have agreed. He argued that our instinct to be considerate is even stronger than our instinct to be self-serving.
Being considerate of others is certainly a good career move, but it's also good for your health. When you show consideration for others, the brain's reward center is triggered, which elevates the feel-good chemicals dopamine, oxytocin, and endogenous opioids. This gives you a great feeling, which is similar to what's known as "runner's high," and all that oxytocin is good for your heart.
That's all well and good, but how practical is it? How do you become more considerate when you have so many other things competing for your finite mental energy? It's not that hard—all you have to do is emulate the habits of highly considerate people."
This is an excerpt.  Read the full text here.
Source:  LinkedIn Pulse
Author:  Dr. Travis Bradberry
Read the questions.
Think about the topic.
Read the text aloud to your tutor. Your tutor will listen and provide you with feedback.
Speaking Instructions
Here are the authors 8 tips for being considerate.
Do you agree or disagree with them?
1. Show up on time.
2. Be deliberately empathic.
3. Apologize when you need to (and don't when you don't).
4. Smile a lot.
5. Mind your manners.
6. Be emotionally intelligent.
7. Try to find a way for everybody to win.
8. Act on your intuition when it comes to other people's needs.
What other things would you add to the list?
How can people develop these characteristics?
Talk with your tutor about this topic. Use the expressions and vocabulary you learned. Use the related resources below to learn more.
Learning and Practice 
Read the vocabulary words below.
Do you know what they mean?  
Can you guess from the context?
Practice pronunciation with your tutor.  
Try to use the words in sentences.
Talk about a considerate (or inconsiderate) person that you know.
Use some of today's vocabulary words as you tell about that person.
Vocabulary Words and Expressions
apologize
broadcast
deadline
deliberate(ly)
elevate(s)
empathic
empathy
emulate
fallacy(-ies)
finite
frown
human nature
insecure
in a crunch
instinct
integral
intuition
malleable
manner(s)
neuroscience
nurture(ing)
offend(ing)
politeness
rude
scenario
soften(s)
tangible
trigger(ed)
wax
zero sum game
Chemicals
dopamine
oxytocin
endogenous opioids