What it Takes to Be a Great Leader
Look at the picture.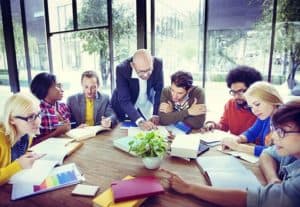 Read the questions.
Think about the topic.
Pre-Reading Questions
What do you think makes a great leader? 
What qualities do most great leaders have?
What types of leaders do you look up to?
Why do people respect some leaders and not others?
Would you like to be a leader?  Why or why not? 
Read and Pronounce
Read the following text out loud to your tutor.  He or she will listen and correct your pronunciation. 
What makes a great leader today? Many of us carry this image of this all-knowing superhero who stands and commands and protects his followers. But that's kind of an image from another time, and what's also outdated are the leadership development programs that are based on success models for a world that was, not a world that is or that is coming.
We conducted a study of 4,000 companies, and we asked them, let's see the effectiveness of your leadership development programs. Fifty-eight percent of the companies cited significant talent gaps for critical leadership roles. That means that despite corporate training programs, off-sites, assessments, coaching, all of these things, more than half the companies had failed to grow enough great leaders. You may be asking yourself, is my company helping me to prepare to be a great 21st-century leader? The odds are, probably not.
This is an excerpt.  Read the full transcript here: 
Source:  TED Talks
Speaker:  Rosalinde Torres
Read the text aloud to your tutor. Your tutor will listen and provide you with feedback.
Speaking 
After watching the reading the transcript (or watching the video below), discuss the following questions with your tutor.
Do you agree with the speaker's ideas?  Why or why not?
Do you think her suggestions will help organizations succeed more?
What types of organizations need leaders like the ones mentioned in the video?
Talk with your tutor about this topic.
Use the expressions and vocabulary you learned.
Use the related resources below to learn more.
Learning and Practice 
Look at the vocabulary list below.  
How many of these words do you know? 
What do you think the others mean? 
Say them out loud.  Your tutor will help you with pronunciation. 
Try to use them in your discussion about leadership. 
anticipate(-ing)
capacity
conduct(ed)
crucial
distill(ed)
effective (ness)
equip(ped)
extent
frustrate(d)
identification
impact(ful)
initiative(s)
innovation
investment
matrix
navigate(-ing)
network
odds
predictability
political
potential
reckless
resurface (-ing)
socioeconomic
stunt
(un)recoverable
good old boy networks